About Bella Grande Entrances
Since 2002 our family has been driven to provide our clientele with the best products that we can manufacture. During all the years of our existence we have been fortunate to have worked with some of the top architects, designers and decorators from around the world. We have been fortunate to supply products for commercial ventures, unique personal residences, celebrity abodes and many other types of clients that desired quality products at a fair price.
We have an engineering staff and design staff that are second to none and insure that our clients have an artistic product that is functional and long lasting. Many of the artisans that hand forge the iron used in our offerings are 5th and 6th generation blacksmiths. There are no shortcuts allowed in the manufacturing process. We will spend whatever time is required to check, double check and even triple check the engineering perspective of each product to make sure that safety and functionality are an integral part of each design and assured. All designs, whether supplied or created by our staff, need to be approved by engineering and production to assure our clients that they have the best possible product.
We spend an inordinate amount of time reviewing all details of each product. We continually strive to manufacture the best product in the marketplace. This diligence has been rewarded by many repeat customers, customer referrals and an A+ rating with the Better Business Bureau. Time well spent!
"When a door just isn't enough."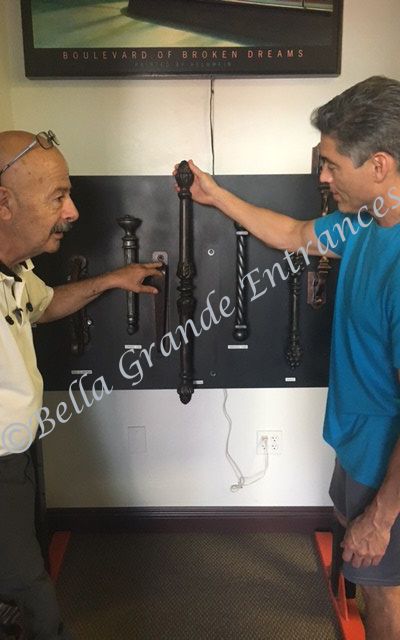 Sleep in Absolute Peace Wake up to Bright Sunshine
Bella Grande Entrances is a company that can provide you with the finest custom wrought iron doors that are sure to exceed your expectations. Our doors are designed to offer you more than just protection and beauty but also a serene atmosphere that guarantees a peaceful sleep. Our doors are handcrafted to perfection, with intricate designs that incorporate elegance and functionality. You will enjoy the beautiful view outside and the privacy of your home without any compromise. Our customized doors are made with high-quality materials ensuring that they are long-lasting and durable, plus we offer various finishes to choose from making it easy for you to match your home's aesthetic. With Bella Grande Entrances, you can transform your home into a serene, stylish, and secure space for you and your family, and experience peace of mind knowing that you made the right choice.
Numbers Speak for Themselves
We want you to be satisfied and happy with any product you purchase from Bella Grande Entrances. We realize you are the best source of referral business for our family.
Premium Quality
Our exceptional doors are made from the finest materials with unparalleled precision, reflecting your unique style and character.
Customer Reviews
Our doors are really popular with customers because we make them really well. We work hard to make sure that people are happy.
Custom Quote
Looking for a truly unique wrought iron design that perfectly complements your personal style?